Race Announcement: 2013 Disney Goofy Challenge! January 12 AND 13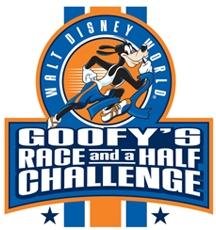 For those who aren't in the know or willing to Google it, the Goofy Challenge is a two day event in Walt Disney World. On Saturday, you complete a half marathon and follow that with a "recovery run" of a FULL marathon. 39.3 miles in two days.
This race announcement is actually TWO race announcements. In addition, I'm going to run the 5k on Friday with TKB. You always need a warm-up run, right? I think this is unofficially called the "Dopey Challenge", so 42.4 miles in three days. Let's do it!
Last week Disney announced their new course for the 20th Anniversary of the marathon:
This is going to be a great event because this "vacation" is being planned with
Jill
and my brother/sister-in-law Jake and Rebecca. Rebecca ran the Las Vegas Half-Marathon back in December when I did the full. Rebecca will be running the half and Jill will be running the full! It is Jill's FIRST marathon. I'm waiting for a couple more people to get registered for this (*cough* Joe VI *cough*). This is going to be great!
While I'm not looking past my marathon goals this year, I'm already planning 2013. I'm hoping for a big 2013 and it is going to require a lot of advanced planning as registrations are going to sell out quickly for some of the events.